Part 1: The Challenge in Numbers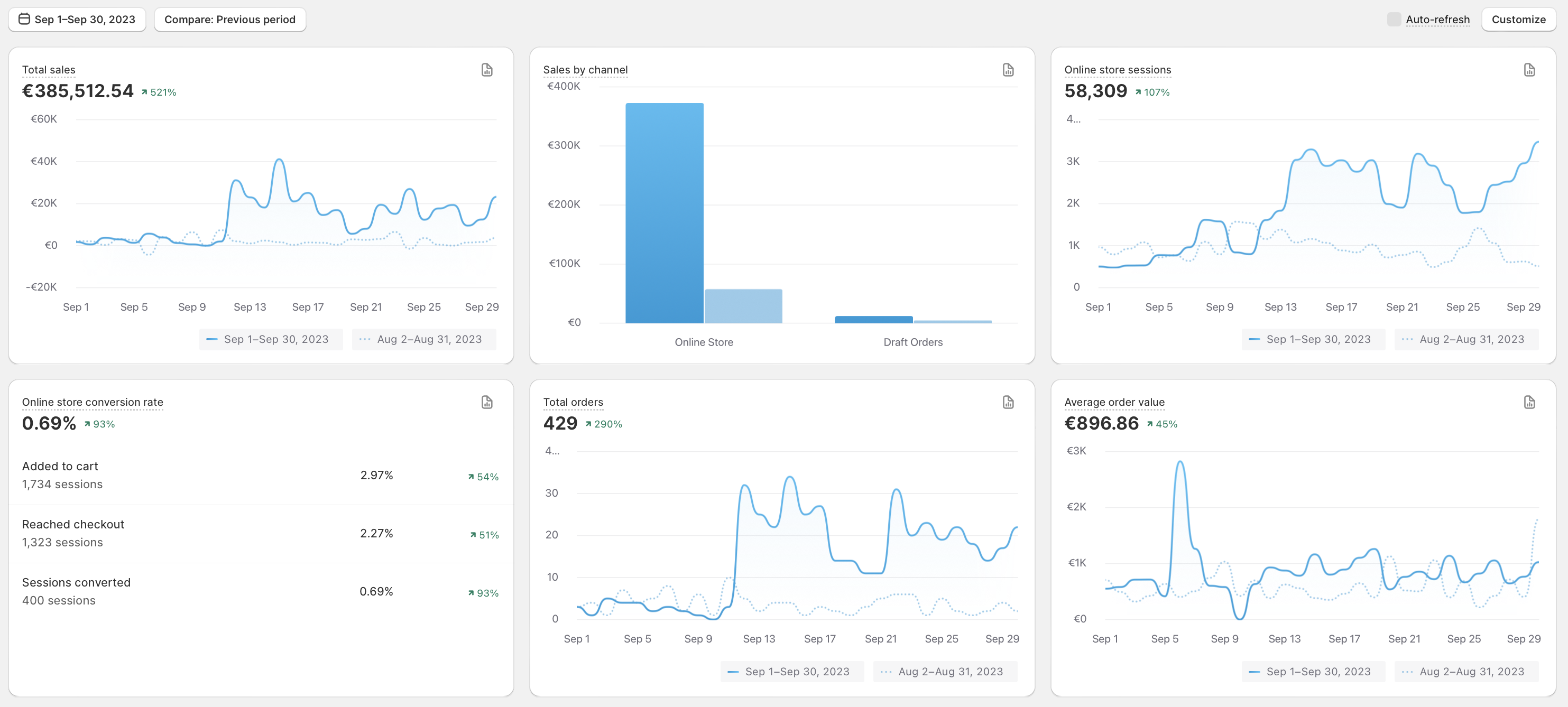 In 2023, our e-commerce project with a global luxury iPhone case retailer was driven by a clear objective: surpass the September 2022 figures by 12-17% in 2023. Our key benchmarks at the beginning of this journey were as follows:
Initial Revenue (September 2022): €328,654

Total Orders (September 2022): 490

ROAS (September 2022): 5.27
The pivotal moment came with the launch of iPhone 15 case sales. However, our focus wasn't solely on increasing order quantity; we were equally determined to elevate the AOV (Average Order Value). Let's take a closer look at the numbers that showcase our progress in September 2023:
Revenue (September 2023): €385,512

Total Orders (September 2023): 429

ROAS across all traffic sources (September 2023): 5.85

AOV Increase: From €710 to nearly €900
While the total order count experienced a slight decline, our unwavering commitment to boosting AOV significantly augmented our revenue. Our approach was data-centric, as exemplified in the subsequent parts of this case study.
Key Advertising Channels:
Primary Channel: Facebook Ads (80%-85%)

Secondary Channel: Google Ads (15%-20%)

Additional Activities: SMS and Email Marketing
Challenges:
Challenges included navigating the intricacies of iOS 14+ tracking and deploying Server Side solutions to address this issue. Our dedication to data-driven strategies remained the cornerstone of our approach to surmounting these challenges.
The upcoming sections of this case study delve into the specific strategies and tactics we employed to achieve these remarkable results.
Part 2: Optimizing Facebook Ads for Excellence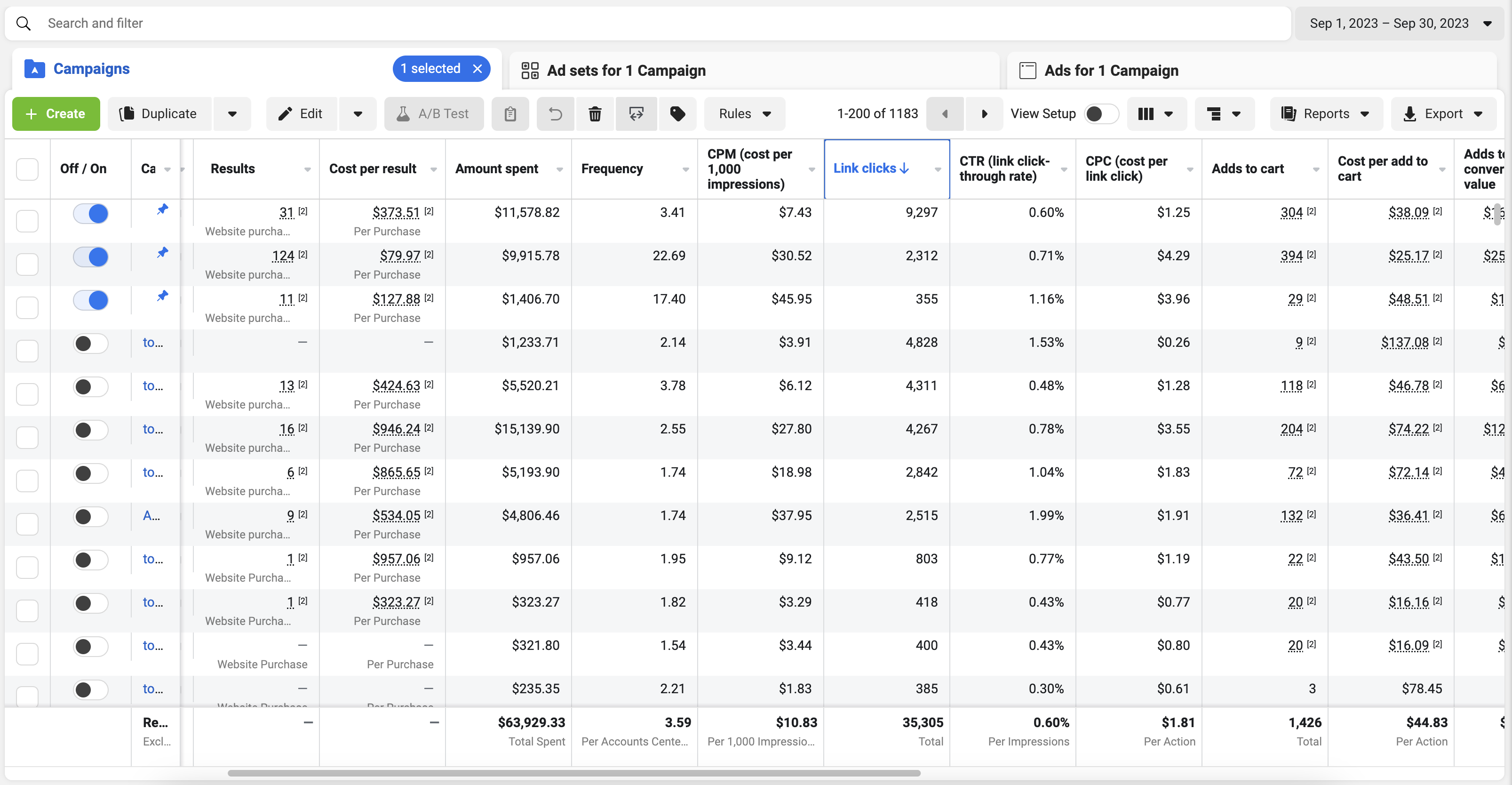 In our pursuit of improving e-commerce revenue for the global luxury iPhone case retailer, we turned our attention to one of the most pivotal advertising channels: Facebook Ads. The success of our efforts can be attributed to a meticulous approach rooted in data and strategic optimization.
Strategy:
Data-Informed Creatives:
We began by analyzing data from 2022, leveraging insights from previous campaigns to craft engaging ad creatives. We aimed to create visually striking and compelling ad content that resonated with our target audience.
Catalog Segmentation:
Recognizing the diverse range of iPhone case products, we undertook the task of categorizing our catalog. This segmentation allowed us to tailor our ad content and targeting, enhancing our overall performance.
Facebook Advantage+ Shopping Campaigns:
A key initiative was the introduction of Facebook Advantage+ Shopping Campaigns. This advanced feature harnessed Facebook's extensive user data to improve ad delivery and engagement.
Results:
Here is a snapshot of the outcomes we achieved:
Ad Spend: $58,572

Total Orders: 223

Revenue: $221,239

ROAS: 3.78
While these figures may appear slightly lower than anticipated, it's important to highlight that this discrepancy was primarily due to challenges associated with iOS 14+ tracking. Our proactive response to these challenges included implementing server-side solutions on our website, a testament to our commitment to adapting to ever-evolving advertising landscapes.
The remarkable success of our Facebook Ads campaign was driven by a combination of innovative creatives, well-structured catalog segmentation, and a forward-thinking approach that set the stage for even more extraordinary achievements.
Part 3: Excelling with Google Ads

In the continued quest to elevate e-commerce revenue for our global luxury iPhone case retailer, we focused on Google Ads. This channel presented unique opportunities, and our efforts proved fruitful through strategic optimization.
Approach:
Performance Max Campaigns:
A central component of our strategy was the deployment of Performance Max campaigns. This feature allowed us to maximize visibility across Google's vast advertising network, targeting potential customers effectively.
Catalog Segmentation by Price Range:
We adopted a price-driven catalog segmentation strategy. By categorizing our products into different price ranges, we tailored our advertising efforts to reach distinct customer segments more effectively.
Precision in Search Campaigns:
We conducted extensive keyword research to create particular search campaigns. Each ad was meticulously crafted, with a focus on geographic targeting. Quality Score (QS) was a crucial consideration in our approach, intending to achieve a QS of 6-7 or higher.
Dynamic Remarketing:
Dynamic remarketing was implemented to re-engage potential customers who had previously visited our website. This tactic played a pivotal role in increasing conversion rates.
Results
Here's a glimpse of the outcomes we achieved:
Ad Spend: $8,541

Total Orders: 74

Revenue: $66,597

ROAS: 7.79
This case study section showcases our prowess in maximizing results through Google Ads. The precision of our targeting, combined with meticulous campaign management, resulted in a remarkable ROAS of 7.79, exceeding our goals.
In summary, our work on Google Ads was characterized by precision, data-driven strategies, and the pursuit of excellence. The successes achieved in this channel complemented our efforts across other advertising platforms, contributing to the overall growth and profitability of our luxury iPhone case retailer.