The market for SaaS platforms and services (Software as a Service) is experiencing rapid growth today, leading to fierce competition within this niche. To achieve success as a SaaS product in the US, substantial efforts are required.
Upon examining the top SaaS business models, it becomes evident that a strong presence in search engines is essential. SaaS companies highly value SEO; however, attaining desirable results demands time, resources, and a strategic approach.
At Fortunatos, we frequently encounter clients who seek to implement effective SEO but struggle with knowing where to begin. In this case study (NDA, so we won't mention names 😉), we discuss a SaaS company (an ASO tool) that approached us in a less fortunate state:
Their search engine optimization efforts were yielding no results.
Their attempts to rectify the situation independently had proven unsuccessful.
In a last-ditch effort, they redesigned their website and invested substantial efforts to improve its speed, hoping it would "fix" the issue.
Recognizing a significant mistake made several years ago by not investing in SEO, their internal marketing team realized that ignoring SEO would further hinder their business's overall visibility in search results. Consequently, they decided to make up for the missed opportunity.
With 7500 traffic and a DR (Domain Rating) of 54, let's conduct a preliminary analysis of the metrics for the SaaS platform (Point A)
The first priority was to understand where the traffic decline was occurring so that we could determine the reasons behind it and what needed to be done. We thoroughly examined all the possible changes made to the website in the past year, as well as analyzed traffic trends and seasonal factors.
The preliminary analysis revealed a consistent upper threshold of organic traffic, with approximately 7,500 visitors per month, primarily originating from branded queries (98%).
However, due to the lack of any recent SEO activities, the number of conversions experienced a sharp decline, and some of the branded traffic was cannibalized by competitors.
In response to these findings, we devised and implemented specific tactics for this client, which we are now going to share. We believe that these tactics might be valuable to you in promoting your own SaaS projects.
Identifying the Main Problem Areas of the SaaS Product
The preliminary analysis revealed the following problem areas:
Low performance of targeted organic traffic, resulting in low conversions.
Few relevant keywords ranking in the top positions.
A decline in the number of paid accounts for the SaaS service.
Non-targeted audience visiting the website, with low-quality traffic coming from India.
Weak link profile compared to competitors, with a low Domain Rating (DR) and no signs of external website optimization.
A high percentage of referring domains from India and CIS countries, despite the primary focus of promotion being in the USA.
Issues with on-page optimization, including unoptimized meta tags, pages not optimized for mobile devices, presence of broken links, low core web vitals scores, and other page optimization problems.
Ineffective content strategy, characterized by poor-quality texts, lack of relevance, and a minimal number of useful articles.
Limited budget for SEO.
Addressing these issues is crucial for improving the SEO performance and overall success of the SaaS product.
Primary SEO Goals at the Beginning of the Campaign
The desired goals and expectations for SEO promotion, based on the analysis and the client's business development strategy, are as follows:
Increase Targeted Organic Traffic: Aim to increase targeted organic traffic, starting at approximately 7,500 visitors per month.
Increase the Number of Accounts: Aim to increase the number of accounts acquired monthly, starting at approximately 200.
Top 3 Rankings in Tier 1 for Target Keywords: Aim to achieve top 3 rankings in Tier 1 countries for relevant target keywords, starting with approximately 48 rankings from various geographic locations.
Targeted Geographies: Focus on the USA and the United Kingdom as high-priority markets, while also targeting the global audience.
Achieve an ahrefs DR (Domain Rating) of 65+: Start with a DR of 54 and work towards reaching a DR of 65 or higher.
These goals and expectations provide a clear direction for the SEO campaign and serve as key performance indicators for measuring success.
Meta Tag Experiments and Premium Link Building: SEO Tactics for Promoting a SaaS Service (Journey from Point A to Point B)
Below, we will list the main tasks that were conducted on the website:
Conducting Fundamental Comprehensive On-Page SEO Work During the First Month:
Optimized the website structure and redistributed weight to prioritize pages.
Rewrote over 90% of the meta tags: The old meta tags did not comply with SEO requirements in terms of length and contained duplicates. Additionally, many pages had irrelevant meta tags in terms of intent. Radical measures were taken when necessary to address these issues.
Implemented internal linking to prioritize pages using JetOctopus: This tool provided detailed statistics on the number of links pointing to each page and other features that greatly assisted in improving the website's internal linking structure.
Additionally, additional information on the number of internal links based on page depth proved helpful: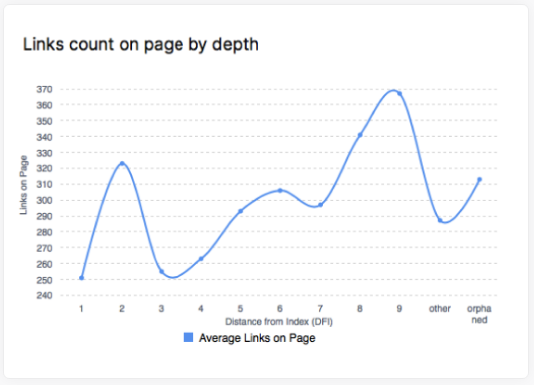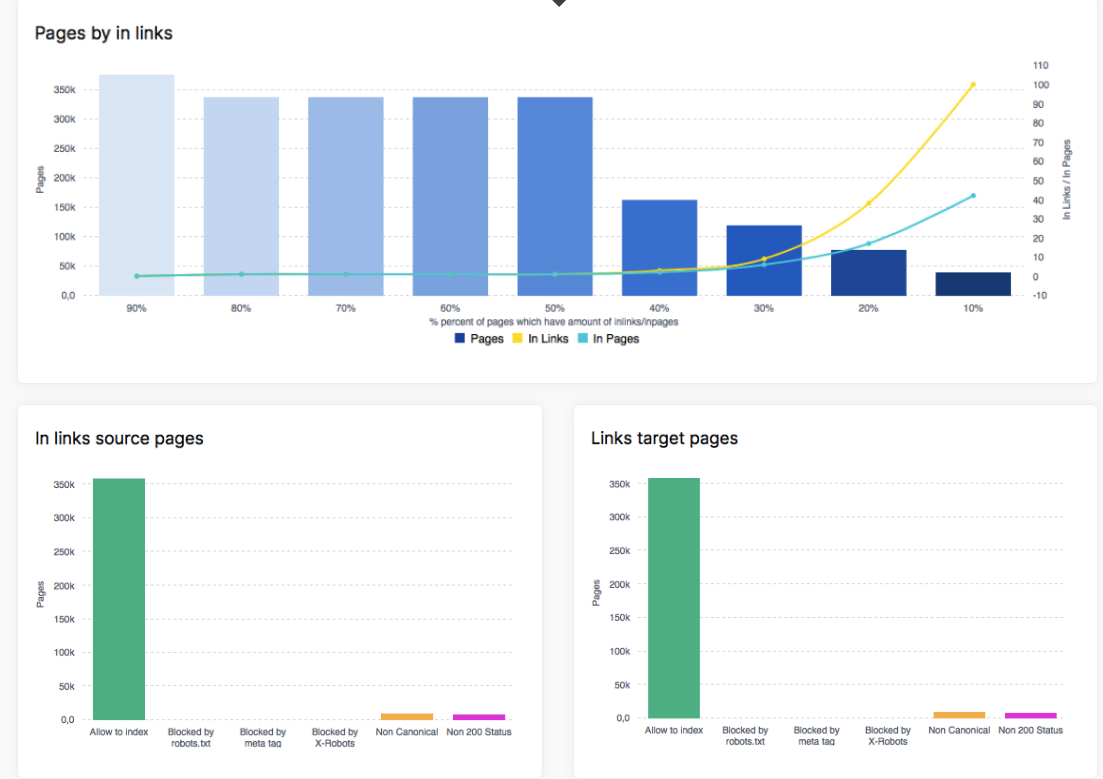 We resolved microdata issues by implementing the following Schema types:
Schema Product for Category Pages: By adding Schema Product markup to category pages, we provided search engines with clear and structured information about the products offered within each category. This allowed search engines to better understand the content and context of the category pages, potentially leading to improved visibility in relevant search results.
– Schema Article for Blog Articles: With the implementation of Schema Article markup for blog articles, we marked up the content as articles, providing search engines with essential metadata, such as the article's headline, publication date, and author. This helped search engines categorize and display the blog articles appropriately in search results, potentially increasing organic traffic and user engagement.
Schema ImageObject for Images: By using Schema ImageObject markup for images, we provided additional information about the images used on the website, such as captions and image descriptions. This enriched the image search experience and allowed search engines to better understand the visual content, potentially leading to increased visibility in image search results.
Schema FAQPage for Glossary Pages: Implementing Schema FAQPage markup for glossary pages allowed us to structure the content as FAQs (Frequently Asked Questions). This helped search engines present the glossary content in a more organized and user-friendly manner, potentially increasing the chances of featured snippets in search results and enhancing the user experience.
By resolving these microdata issues and implementing relevant Schema markup, we aimed to enhance the website's data structure, improve search engine understanding, and potentially boost organic search visibility for specific content types.


We addressed the issue of relevance dilution on the pages by undertaking a substantial amount of work to adapt the content to match the search intent and improve relevance to search queries. Ensuring relevance went beyond simply incorporating keywords into the content. It involved conducting in-depth research on the top results for each semantic core cluster to identify the most effective solutions. Keyword density and other factors were meticulously worked on to ensure maximum relevance.
Let's highlight the stages involved, using one cluster as an example:
Analysis of SERPs: We thoroughly analyzed the search engine results pages (SERPs) to understand the intent behind search queries such as "aso tool," "aso seo," "aso software," "aso optimization tool," and other relevant keywords.
Identification of Promising Pages: Based on traffic potential and competition analysis, we identified the most promising pages within the cluster.
Elimination of Overlaps: We addressed overlaps in meta tags, content, and URL structure for service pages, categories, and blog articles. By streamlining the content, we aimed to remove any confusion caused by multiple pages covering the same topic.
Optimization of Page Content: We optimized the content of the remaining page to align precisely with the target keywords and improve relevance to user queries.
As a result of this meticulous optimization process, one of the clusters initially had six pages covering the same topic in various ways. After the optimization, only one highly relevant page remained, addressing all user queries effectively. By resolving the issue of relevance dilution, we achieved improved rankings and experienced a significant increase in organic traffic to the optimized page.

Ongoing Meta Tag Experiments
Our SEO approach involved continuous meta tag experiments, wherein we formed hypotheses and conducted research based on measurements taken at weekly or even daily intervals. In certain cases, the most effective solutions were found through daily data analysis. In instances of stagnation, we reverted to previous settings to ensure optimal performance.
Each page required 3-10 iterations to achieve the best results. The iterative process allowed us to fine-tune meta tags and align them precisely with the search intent, which significantly contributed to improved rankings and visibility.
For SaaS platforms, conducting these experiments regularly is crucial, as competitors in search results also followed this trend. In the highly competitive SaaS market, standing still is not an option, as everyone aims to occupy the desired top positions and gain a competitive edge.
Our experiments included the following steps:
Tracking the Dynamics of Keyword Rankings: We closely monitored the changes in keyword rankings, noting improvements, stability, or declines. This data guided our decision-making process and allowed us to identify areas for improvement.
Formulating Conclusions: Based on the results of the experiments, we formulated conclusions to understand the impact of various meta tag configurations on search rankings and positions.
Identifying the Most Effective Meta Tags: Through rigorous experimentation, we identified the most effective meta tags in terms of their impact on search rankings and positions. This enabled us to implement the most optimal meta tag configurations across the website.
By conducting ongoing meta tag experiments and refining our approach based on real-time data, we consistently improved the website's performance and maintained a competitive edge in the dynamic SaaS market.
Disavowing Low-Quality Links
To improve the website's link profile, we took proactive measures to remove all low-quality backlinks, especially those that were non-targeted in terms of geography. Utilizing Google's Disavow Tool, we carefully disavowed these undesirable links. The disavowal process significantly thinned out the link profile, allowing us to maintain a clean and authoritative backlink profile.
Simultaneously, we focused on acquiring new, high-quality backlinks from authoritative sources. By strategically building new link sources, we aimed to compensate for the removed low-quality links and enhance the overall link profile's authority and relevance.
Link Building for SaaS: Acquiring Premium Backlinks
We emphasized the importance of featuring the ASO tool on several authoritative websites to establish proper authority for our SaaS client. This link building strategy aimed not only to transfer link weight but also to create informational resonance, filling the search results with our resources and building a positive image for the SaaS project.
Through consistent and strategic link building efforts, we gained momentum over several months, and the SaaS platform experienced substantial organic traffic growth. As premium backlinks from reputable sources were acquired, the website's authority and visibility in search results improved significantly.
Budget for Link Building: $5000 per Month
To ensure the success of the link building campaign, we allocated a monthly budget of $5000. This investment allowed us to execute our link building strategies effectively, acquire premium backlinks, and achieve tangible results for the SaaS platform.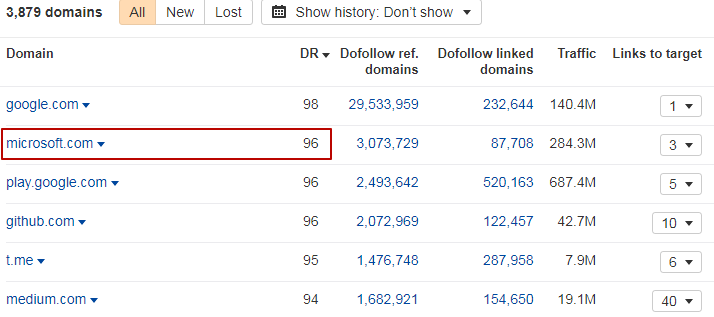 Working with Long-Tail Keywords
During the process of gathering the semantic core, we identified and analyzed a significant number of long-tail keywords. We then generated pages with intent-specific meta tags and content for these keywords.
By targeting low-frequency long-tail queries, we attracted a more targeted audience to the website.
Do not hesitate to use long-tail keywords. In our case, by targeting high-converting, low-frequency queries, we not only increased website traffic but also witnessed a significant boost in conversions.
Special attention was given to blog pages, especially for the most important clusters. Articles were expertly written by industry experts to create highly authoritative content. The primary focus was on delivering value to the audience while also catering to search engines. The results were not long in coming. 😊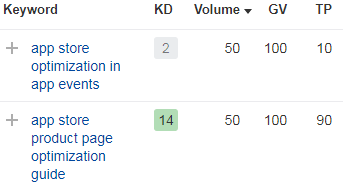 The results of the SEO promotion for the SaaS product (Point B)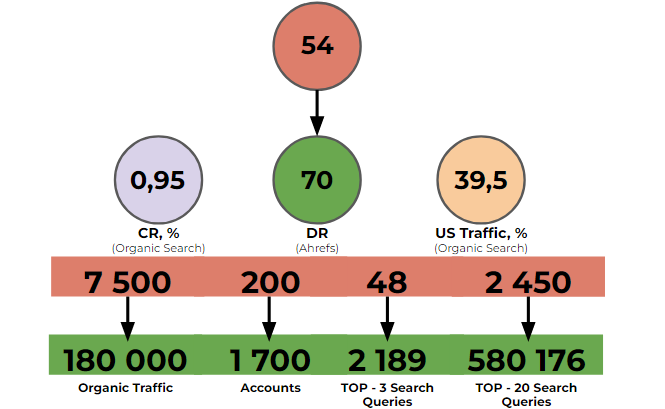 TRAFFIC = 180,000+.
Monthly organic search traffic increased from 7,500 to 180,000+.

ACCOUNTS = 1,700+.
Monthly number of new paid accounts from organic search increased from 200 to 1,700.
TOP-3 = 2,189 search queries.
The total number of search queries increased from 48 to 2,189.
TOP-20 = 580,176 search queries.
The total number of search queries increased from 2,450 to 580,176.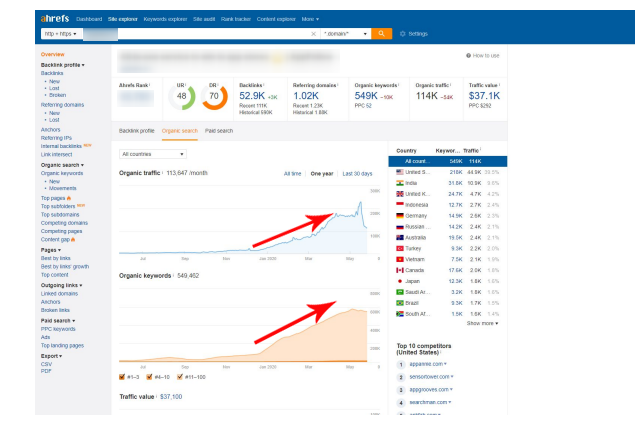 BOOSTED DR from 54 to 70.
Ahrefs' DR (Domain Rating) increased from 54 to 70.

We discontinued our collaboration due to the impact of COVID-19 and the challenging fundraising environment at that time. The company made the decision to scale back activities, including marketing, as part of the overall cost-cutting measures.
However, despite discontinuing our collaboration, the SEO efforts yielded remarkable results in terms of traffic growth and, most importantly, phenomenal growth in paid accounts from organic sources. The organic revenue increased by over 8 times!
Conclusions
Today, organic search provides this website with a substantial volume of traffic at a lower cost compared to paid search. As a result, SEO has proven to be their most profitable investment in digital marketing. However, there is still significant untapped potential for this project to surpass paid traffic and generate tremendous profits. The SaaS industry offers ample opportunities to achieve this goal. We encourage you to continue experimenting and taking conscious steps to optimize organic traffic and maximize profitability.