So, imagine the following situation: you're in the epicenter of a vast information ocean, and your task is to find the golden grains that will help you optimize your website for search engines. The task seems daunting, doesn't it? This is where SEO extensions for Google Chrome come to the rescue.
In a world where time is money, the right extension can significantly simplify your work, helping you to conduct research and analysis faster and more efficiently. However, with such abundant available extensions, how do you choose the one that will become the perfect assistant in your SEO strategy?
Let me ease this task for you. In this article, I've compiled the best SEO extensions for Chrome, which will help you automate the keyword search and analysis process and make your work more productive and successful.
But the main thing here is you don't need a huge budget to use these tools. Most of them are available for free download, making them accessible to anyone who wants to improve their SEO skills. And the most amazing thing about these extensions? When you combine them, you end up with a full-fledged SEO toolkit.
Ready to get started? Then let's dive into the world of SEO extensions for Chrome and find out how they can help you succeed in this ever-changing world of search engine optimization.
Keywords Everywhere
Keywords Everywhere is a browser extension for Chrome and Firefox that provides keyword data on various websites. It allows you to obtain information about the monthly search volume, cost per click, and competition of keywords. The extension also extracts related keywords and volume data from Google and Bing, displaying them directly on the search pages. It also provides historical data about search trends and page-level and site-level traffic metrics. You can save time using Keywords Everywhere as it eliminates the need to switch between different tools and provides all necessary data in real-time. The extension also allows you to download lists of keywords in various file formats. Overall, Keywords Everywhere is a useful tool for keyword research and allows you to gain a competitive advantage in search engine optimization.
Advantages of using Keywords Everywhere for an SEO specialist:
Ease of use: The Keywords Everywhere extension integrates directly into the Chrome or Firefox browser, making it convenient and accessible on any website.
Advanced keyword data: Keywords Everywhere provide various keyword data, including monthly search volume, cost per click, and competition level, allowing SEO specialists to make informed decisions and optimize their strategies.
Extraction of related keywords: The extension automatically extracts related keywords based on user queries and displays them along with the corresponding volume indicators. This allows SEO specialists to search for and use additional keyword phrases to expand their target audience reach.
Historical data and search trends: Keywords Everywhere provide historical data on search trends, helping to identify long-term trends and adapt SEO strategies accordingly.
Integration with popular tools: The Keywords Everywhere extension integrates with other tools such as Google Analytics, Google Search Console, and others, allowing you to get keyword data right in the interface of these tools.
Despite some limitations, Keywords Everywhere is still useful for SEO specialists, providing valuable information about keywords and saving time in keyword research and analysis. However, for a comprehensive analysis and optimization of SEO strategies, it is recommended to use Keywords Everywhere in conjunction with other tools and analysis methods.
Download Link: Keywords Everywhere
Redirect Path
Redirect Checker is a free Google Chrome extension that allows SEO specialists and other professionals to quickly check the redirection path for any webpage. This tool helps understand URL redirection chains and detect potential issues such as HTTP errors and incorrect redirects.
Key advantages of Redirect Checker include:
Ease of use: The tool is easily installed as a Chrome extension and can be used immediately after installation. No additional setup or complex actions are required.
Server and client redirection check: The tool detects various types of redirects, including HTTP 301 and 302 redirects, HTTP to HTTPS redirection, and redirects caused by JavaScript and meta redirects. This allows the user to get complete information about the redirection path.
Additional data and headers: The tool provides additional data about servers, server types, request headers, X-Robots tags, cookies, and server IP addresses. This is useful for server analysis and setup.
Copying and exporting data: The tool allows you to copy redirection chains and other data to the clipboard for creating reports or using other applications, such as Excel.
Free of charge: The tool is provided for free, making it accessible to all users without the need to pay for a subscription or licensing fees.
Some downsides of Redirect Checker include the following:
Chrome browser limitations: Since the tool is a Chrome browser extension, it is only available to users of this specific browser. Users preferring other browsers may need to use alternative tools.
Limited functionality: Although the tool provides useful data about the redirection path, it may be limited in functionality compared to other, more powerful SEO tools. For a more thorough and detailed redirect analysis, more specialized tools may be required.
Overall, Redirect Checker is a useful and convenient tool for SEO specialists, web developers, and content managers. It helps quickly and accurately check the redirection path of URLs, detect potential problems, and get additional data about servers and request headers.
Redirect Checker can be a useful tool for everyday work and redirect analysis thanks to its ease of use, cost-free nature, and data copying capabilities. However, it might be worth considering alternative SEO tools if you need a more powerful and expanded functionality.
Download Link: Redirect Path
SEO Meta in 1 Click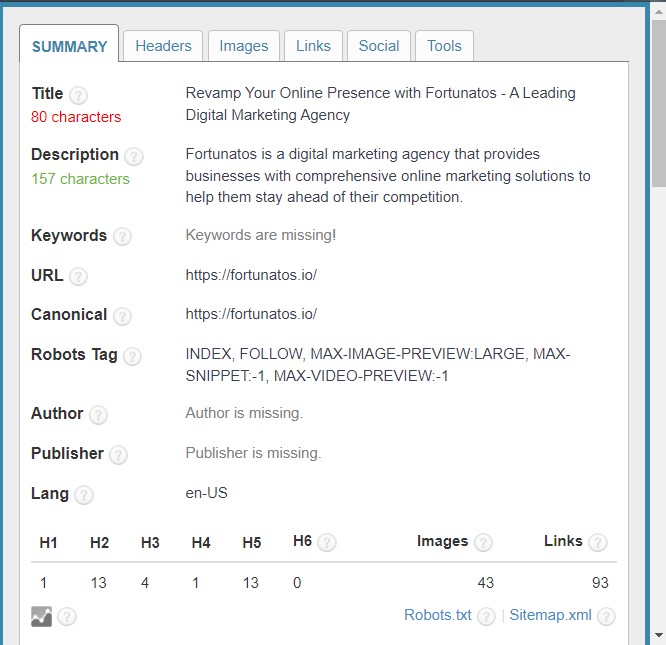 SEO META in 1 CLICK is a Chrome extension that allows you to display all meta information and key SEO data. It provides convenient access to meta tags, headers, links, social data, and other important information for managing and improving your website's SEO and online visibility.
Key features include:
Displaying the page title and its length
Displaying the page description and its length
Displaying the page's URL and meta canonical URL
Displaying meta robots
Displaying headers (H1, H2, H3, H4, H5, and H6)
Counting the number of images with and without the ALT attribute
Counting the number of links (internal, unique, etc.)
Displaying Open Graph and Twitter data
Checking Robots.txt and sitemap.xml
And much more
However, the main advantage of this extension is the ability to customize it to your needs and add links to other useful SEO tools. This allows you to quickly check various aspects of technical SEO and perform quick checks on demand.
The SEO META in 1 CLICK extension has great potential and can be a useful tool for web developers, SEO specialists, and anyone involved in optimizing websites for search engines.
Download Link: SEO Meta in 1 Click
Hunter
Hunter for Chrome is an extension that lets you quickly find email addresses on web pages with just one click. When you visit a website, Hunter for Chrome will help you find contact information to connect with the right people.
Key features include:
Domain search: Click on the icon in Chrome to find all email addresses associated with the website you're visiting. The extension provides the most common email address patterns, department filters, and public sources. Email addresses are either marked as verified or come with confidence scores. If an email address hasn't been verified yet, you can run a verification check by clicking on the checkmark icon.
Address search by name: If you already know the name of the person you want to contact, type it in the search box. The extension will find the email address, confidence score, and sources. The Hunter extension will search for the author's name and email address if you're reading an article.
Creating lists: Click on the "+" icon next to a person's name to save their contact information to a list. You can send email blasts to your potential customers or save them in CRM systems such as Salesforce, HubSpot, Pipedrive, Zoho, and over a hundred other applications.
Hunter for Chrome is trusted by over 3 million people, including salespeople, marketers, recruiters, bloggers, journalists, and other professionals who need to connect with the right people.
To use the Hunter extension, you need to create an account, which can be done right after installation. You'll be provided with 25 free searches per month, and you can upgrade your account to get more searches.
Download Link: Hunter
SEOQuake
SEOquake is a free extension that provides key SEO metrics, as well as other useful tools such as SEO audit and many more. With SEOquake, you can:
Get an overview of key metrics in a matter of seconds.
Conduct a comprehensive SERP analysis and export the results in CSV format.
Instantly assess keyword difficulty.
Customize parameters for a search query.
Conduct a full SEO audit of a webpage, including mobile compatibility checks.
Check social statistics for Facebook.
Use a wide range of predefined parameters or create your own set.
Get a full report on internal/external links.
Determine keyword density and customize the stop-word list.
Compare URLs/domains.
SEOquake consists of several tools that can be used depending on your specific SEO tasks. The SEO Bar is an additional toolbar located at the top of the browser window, which provides key metrics, most of which can be customized. The SERP Overlay is a bar that appears beneath each SERP result. Once activated, it provides detailed metrics associated with each listing and a sidebar that allows you to sort and export results.
You can also get detailed reports for the specific page you are analyzing.
SEOquake has other useful tools, including an SEO audit tool, keyword density report, internal and external link analysis, as well as social metrics.
SEOquake is very easy to install and use.
The SEOquake plugin is compatible with several browser extensions and is constantly updated.
As of now, SEOquake has been downloaded over three million times, and the number of users continues to grow.
Download Link: SEOQuake
SEO Minion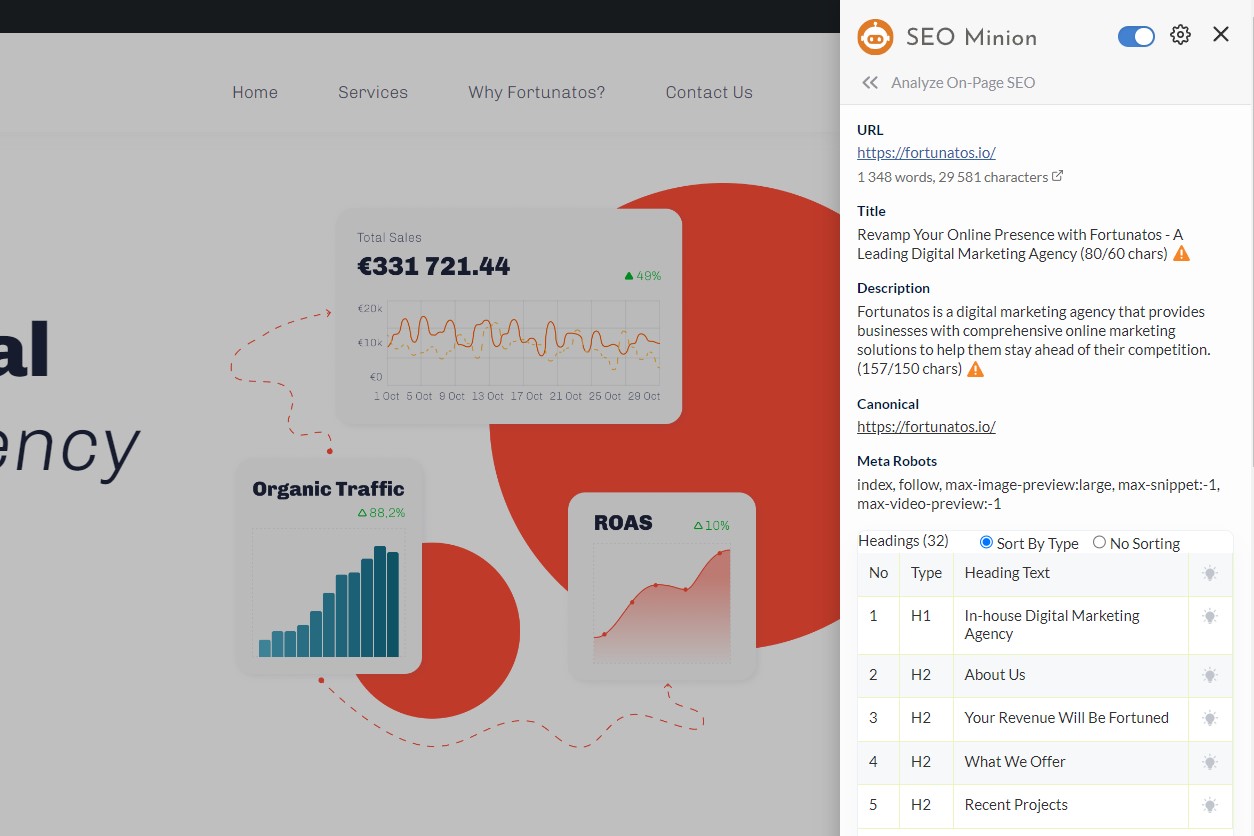 SEO Minion is a free SEO tool that assists you in your daily website optimization tasks. It offers the following features:
On-Page SEO Analysis: Analyze the HTML of any webpage and receive useful information that will help you optimize On-Page SEO, as well as warn you of potential issues.
Highlight all links: Quickly view all links (internal and external) on any webpage.
Broken link check: Check every link on a webpage and get a report on any links with issues.
Hreflang tag check: Check the correctness of the hreflang tag and the presence of reciprocal tags.
SERP Preview: View a preview of your website in real Google search results and update it in real-time.
Google search location simulator: View personalized Google search results for one keyword in two different location/language combinations.
SERP utilities: Copy/download URLs and data from Google search results – organic, ads, local, product, video, images, fresh news, FAQ, and PAA data.
SEO Minion is a useful browser extension that allows you to perform SEO tasks efficiently. It provides on-page SEO analysis, broken link checks, hreflang tag checks, and other useful features. This tool can become your faithful assistant in everyday website optimization tasks.
Download Link: SEO Minion
Google PageSpeed Insights API Extension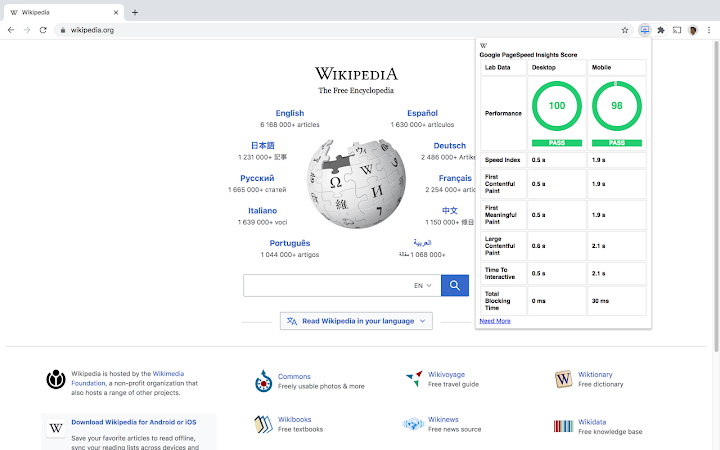 The "Google PageSpeed Insights API Extension" provides real-time Google PageSpeed Insights scores for desktop and mobile devices. It makes a real-time API request to Google PageSpeed Insights (LightHouse) to display a summary of the website's performance along with lab data such as speed index, first contentful paint, first meaningful paint, largest contentful paint, time to interactive, and total blocking time.
It has the following practical benefits for an SEO specialist:
Website Performance Assessment: The extension provides real-time Google PageSpeed Insights scores for different platforms (desktop and mobile devices). This allows the SEO specialist to get a complete picture of the website's performance and identify potential issues that might negatively impact the user experience.
The extension displays data such as speed index, first contentful paint, time to interact, and other metrics. This data will help the SEO specialist identify specific aspects of the site's performance that need optimization.
LightHouse Performance Assessment: The extension presents the website's performance score as a percentage value with color indicators. This allows the SEO specialist to quickly assess the site's overall performance and see whether it exceeds certain threshold values or requires further optimization.
Link to Google PageSpeed Insights: The extension provides a hyperlink that allows you to go to the Google PageSpeed Insights site with the selected site. This lets the SEO specialist get more detailed information and recommendations from Google regarding website performance optimization.
Overall, this extension helps the SEO specialist more effectively assess and improve the website's performance, directly related to search engine optimization and improving the user experience.
Download Link: Google PageSpeed Insights API Extension
Hreflang Tag Checker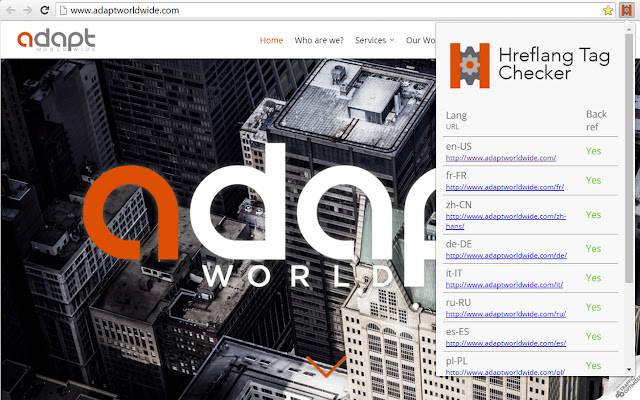 "Hreflang Tag Checker" is a browser extension for Google Chrome offered by Adapt Worldwide. The tool is designed to automate the process of checking the deployment of hreflang tags on a website. The Hreflang Tag Checker reads the hreflang tags of the specified URL, then crawls them to assess whether they point back to your current URL. This significantly saves time when evaluating a site's language targeting and hreflang architecture, allowing for a quick and reliable determination of the site's optimization status for international organic search.
Unlike many other extensions, Hreflang Tag Checker does not merely list the hreflang data of a page. It actually crawls the links in the hreflang tags to verify if they point back to the page you are visiting.
For SEO specialists, this tool can be very useful. Hreflang tags play a vital role in optimizing websites for international search, as they help search engines understand which language versions of the site are intended for which geographical regions. Proper use of hreflang tags can enhance a site's visibility in regional search queries and reduce the likelihood of irrelevant site versions appearing in search results. Thus, the Hreflang Tag Checker extension can be a valuable tool for SEO specialists working with multilingual or international websites.
Download Link: Hreflang Tag Checker
TextOptimizer
TextOptimizer is a text writing tool designed to assist users in creating concise, high-quality, and targeted texts that will be interesting to readers and optimized for search engines.
It utilizes the latest technology in neural networks and semantic analysis, allowing anyone to write substantial texts and optimize them for better search results.
In 2023 reviews, TextOptimizer is described as a useful and easy-to-use tool that significantly simplifies content optimization and planning. Its interface is free from unnecessary clutter and is so simple that it can be called "idiot-proof" – requiring minimal skills. According to information on the site, TextOptimizer is simple, fast, and effective, allowing users to create well-optimized content in less than 10 minutes. 70% of optimized pages occupied higher positions within 5 weeks.
In conclusion, TextOptimizer is a very useful tool for an SEO specialist. It aids in creating search engine-optimized content, simplifies the writing process and accelerates it, and contributes to improving the site's position in search results.
Download Link: TextOptimizer
Keyword Surfer
"Keyword Surfer" is a Google Chrome extension that allows you to generate keyword ideas and see search volumes directly in Google search results. With it, you can gain valuable insights about search volume, cost per click (CPC), keyword suggestions, related terms, visibility metrics, and on-page data. Additionally, "Keyword Surfer" enables you to create keyword collections, simplifying the process of saving important keywords without having to search for them individually each time. These collections can be conveniently exported in .csv format when needed.
The data for the extension is provided by Surfer, a Content Intelligence tool that combines content strategy, creation, and optimization into one smooth process. Surfer's mission is to help everyone deliver the best and most relevant content and improve the quality of websites. Surfer is used by thousands of content, SEO, and marketing specialists to accelerate their digital marketing.
Recent reviews indicate that "Keyword Surfer" is an excellent tool for content creators. It provides brilliant keyword ideas in the search results and shows whether or not Google's meta title has been changed. The extension's interface is convenient and easy to use. By entering some keywords, the extension can generate a multitude of ideas.
So, why is this useful for an SEO specialist? The "Keyword Surfer" extension offers a simple and effective way of obtaining keyword ideas straight from the Google interface, simplifying and speeding up the keyword research process. This can assist SEO specialists in determining the most effective keywords to use in their content strategy and provide valuable information for improving their site's visibility in search engines. Moreover, the ability to create keyword collections can be useful.
Download Link: Keyword Surfer
Data Scraper
The Data Scraper extension for Google Chrome is a data extraction tool that allows you to scrape any HTML page. It enables you to extract tables and lists from any page and upload them to Google Sheets or Microsoft Excel. This tool allows you to export web pages to XLS, CSV, XLSX, or TSV formats.
The initial free plan provides 500 free page credits per month. Apart from the free plan, there are paid plans with more features. Using one of the existing extraction recipes, you can convert most popular sites into csv with just one click. The recipes are created by users and made available to others for use. There are over 1 million such recipes for many sites worldwide.
In addition, the developers claim to provide excellent support, responding to all emails and calls. They even have daily office hours during which they share the screen with clients and answer questions.
Data Scraper is loved by:
Sellers looking for leads
Lead generation companies looking for contact information
E-commerce distributors, retail sellers, clients analyzing prices and reviews
Recruiters looking for the best candidates and rates
Job seekers looking for the best jobs in job databases
Small business owners trying to manage ratings and reviews on e-commerce sites
Businesses competing in online databases
Data scientists/students wanting to collect and analyze cleaner information
Marketers analyzing sentiment in tweets and posts
The Google Chrome extension "Data Scraper" is a data extraction tool that allows you to scrape any HTML web page. With it, you can extract tables and lists from any page and upload them to Google Sheets or Microsoft Excel. This tool allows you to export web pages in XLS, CSV, XLSX, or TSV formats.
Download Link: Data Scraper
Conclusion
So, we have reviewed various SEO extensions for Chrome, each with its own unique features and advantages. From keywords and link analysis to technical recommendations and real-time feedback, these extensions provide all the necessary tools to make your website stand out from the competition and rank high in Google search results.
But remember, it's most important not just to pick an extension, but to use it correctly and efficiently. This means you need to pay attention to your SEO efforts, analyze the results, and continuously improve your strategy. Moreover, don't forget that each extension has its strengths and weaknesses, and their combination can give you the most comprehensive and effective SEO toolkit.
In conclusion, SEO extensions for Chrome are a powerful tool for anyone engaged in SEO, whether you're a beginner or an experienced professional. They will help you save time, increase productivity, and most importantly, improve the visibility of your website online. After all, the success of your site online largely depends on how well you understand and use SEO.