B2B SEO
Experience a Dramatic Surge in Revenue from Corporate Clients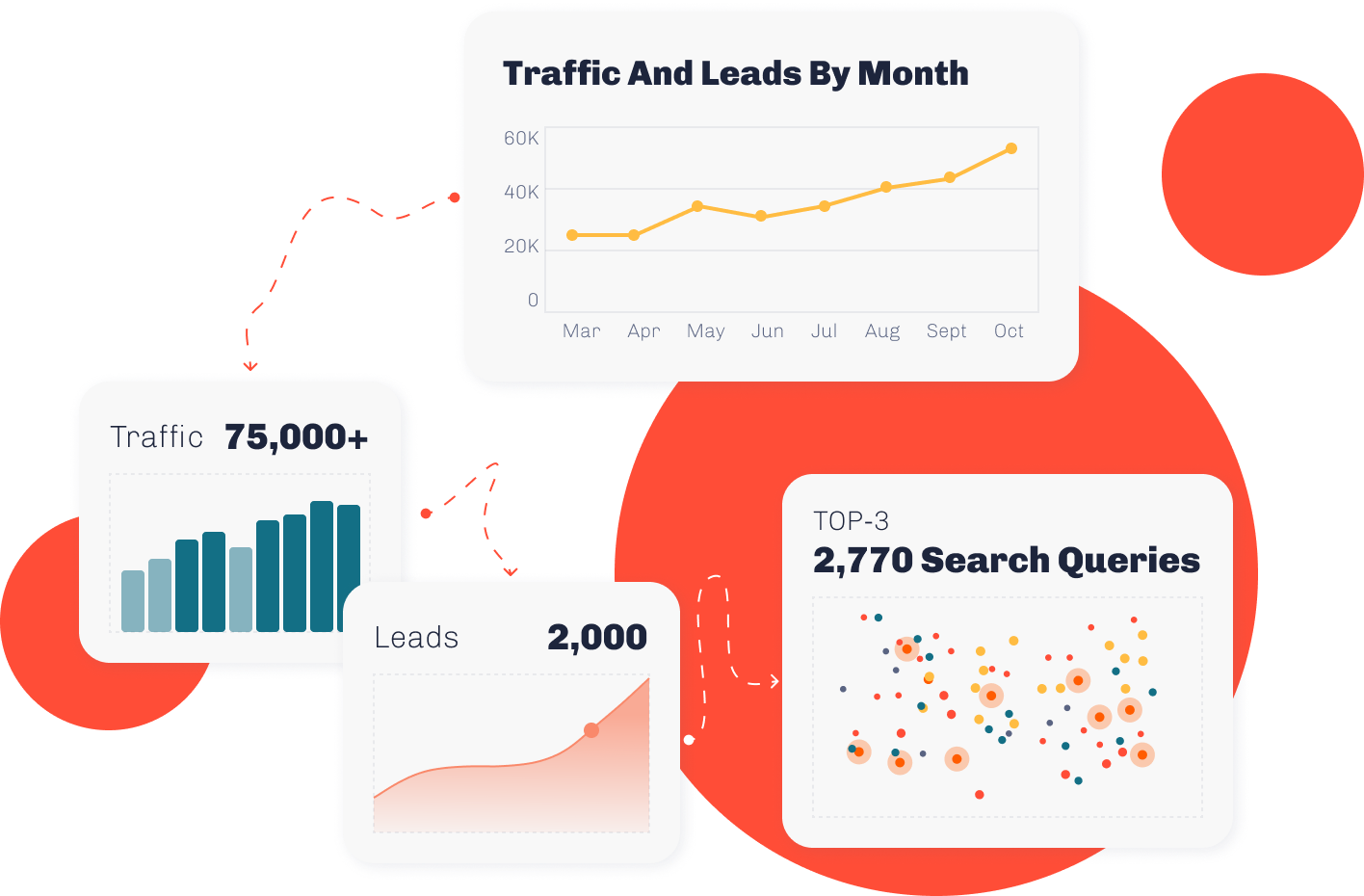 Our SEO experts will work on growing your digital presence, increasing your website's organic traffic, and enhancing your conversions with premium SEO solutions.
$27M
Revenue
Trackable income generated across our portfolio.
209%
Traffic
Minimum organic traffic increase thanks to our services.
501%
TOP-5
The average increase of main keywords to the TOP-5 positions.
Discover the Power of B2B SEO
More about B2B SEO
It starts with a thorough analysis of your B2B SEO project as we understand your goals for it. This includes looking into what your rivals are up to, learning about your target demographic, and discovering the right keyword choices. The next step is to develop a solid SEO plan that increases targeted organic traffic using insights and data.
Our SEO specialists take the time to learn what you need to expand your online presence and boost your bottom line. So, when we finally implement our strategy, you can expect to see tangible benefits in as little as two months.
These services include:
Customized SEO strategy
Semantic core developing
Tech SEO
Content optimization
Link Building & Acquisition
Weekly and monthly SEO performance reporting
In-House Benefits
A Fully Managed Service
Specialists who work alongside 
your marketing team
Experienced CMO and Team Leads who provide targeted guidance and support
A capable staff that's always available to complete critical digital tasks
A dedicated project manager who keeps you up-to-date with results and more
Our SEO specialists research, build and implement a proven strategy based on a powerful hypothesis that drives critical results and improves your website's ranking in search results.
This can be your secret to getting to the top faster and staying there for the long term. Greater credibility, more profitability, and more traffic than you thought possible – get it all with Fortunatos.
Your Success Story Awaits
Be inspired by the diverse range of clients we've helped achieve their specific business goals through custom-tailored SEO solutions.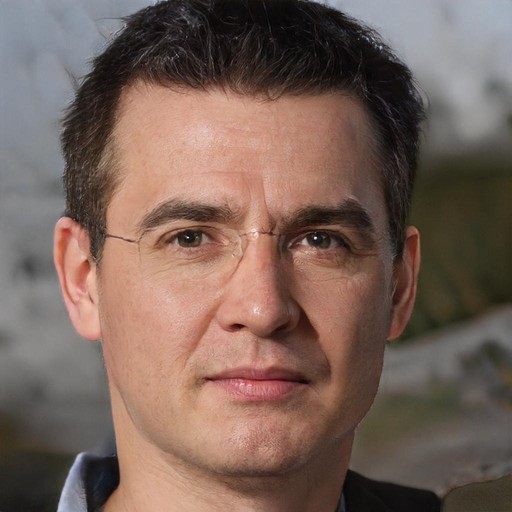 NDA
Daniel Patel | Founder
Fortunatos B2B SEO service has been exceptional. Their team's expertise drove a 400%+ increase in organic traffic within 12 months. Their personalized approach and attention to detail are impressive.
NDA
Chloe Green | Head of Marketing
Fortunatos SEO strategies were remarkable in increasing our qualified leads from just a few to almost 1000 per month. Their deep dive into our product and powerful hypothesis suggestions were truly impressive.
Here's How We Work
All our secrets
1 Step
Client Onboarding + Initial Audit
We take an in-depth look at your digital presence, researching your niche and competitors and auditing your website for its current SEO status.
2 Step
Identify Keywords
Our search engine optimization experts find keywords that have the potential to boost your website's search engine rankings and bring in new customers. We also implement long-term strategies for competitive keywords and optimize your content.
3 Step
Technical SEO
We optimize your website for the most critical technical SEO factors, making it easier and faster for search engines to find and evaluate your content.
4 Step
OnPage SEO
We optimize page-by-page metatag and header using human curation and algorithmic formulae when A/B testing to determine the optimal set. Copywriters and ChatGPT are used to create one-of-a-kind material for optimum results.
5 Step
OffPage SEO
Our optimal plan for you includes outreach, backlinks, and access to private blog networks (PBNs). The anchor list is subject to the same scrutiny and will make sure everything goes smoothly.
6 Step
Results and Reporting
By now you should be able to see the impact of a search-optimized website in the form of better visibility, more traffic, smarter position dynamics, and growing sales.
Case Studies
Let's see what our customers have to say
Industry: SaaS
The Problem
SaaS project for mobile apps. Main audience: app owners, marketers, and ASO specialists. Worldwide but with a focus on TIER-1. The client's main requirement is to increase traffic from organic search, grow paid accounts, and develop a PBN network. KPI's:
Traffic 25,000+ per month
Account growth in x3
The Results
from 7.5k → 180kTraffic growth
from 200 → 1,700Account growth
from 65 → 70Ahrefs DR
Industry: SaaS
The Problem
SaaS project for emergency notifications. Main audience: Healthcare, Government Administration, Pharmaceuticals, Education, Automotive and Financial services. GEO - TIER1, TIER2. KPI's:
Traffic 45,000+ per month
Account growth in x3
The Results
from 34k → 93kTraffic growth
from 15 → 65SQL growth
What We Offer
B2B SEO-Related Services
Let's Grow Your Business
We are here for you
Conduct an expert analysis of your digital sales and marketing strategy at no cost or commitment!
You can set up an appointment with one of our staff members at your convenience. Fill out the form and select a time and day that suits you the best.
What will you get?
An in-depth look at your business
Customized tips and guidance
No hard sells or fillers
An insightful digital strategy
Frequently Asked Questions
All our secrets
Is B2B SEO really worth it?
Yes.
SEO is one of the most effective forms of digital marketing since it increases the brand authority and credibility. Websites that rank highly in organic search results tend to receive more visits from trusted users. The algorithms used by search engines are frequently updated to choose the most trustworthy and relevant websites to display on SERPs. SEO's return on investment can be unpredictable, but it's good to ensure your digital marketing campaigns succeed in the long run.
How much does B2B SEO cost?
The total SEO price tag will fluctuate based on various variables, including target audience, website size and complexity, competitive landscape, and geographical location. Yet, small business websites should initially cost at least $1,500 per month.
We offer a low flat charge and a novel KPI bonus scheme that together produce the desired outcomes without costing a fortune. For this reason, you should only spend more if the outcomes surpass your requirements.
How long does B2B SEO take?
If you ask around to other SEO firms, they will all tell you the same thing: it takes time to see results because establishing credibility and authority is a slow and laborious process.
That's not how we operate here, either.
We guarantee to provide a good dynamic during the initial two months of your membership. Even while the full effect won't be visible for another six months, the return on investment will be substantial.
Who is assigned to my B2B SEO team?
Your team includes the following:
- Project Manager
- SEO Manager
- Content Strategist
- Team Lead SEO
- CMO